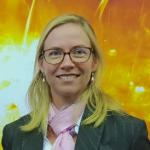 I am an astronomer at the IAU's Office of Astronomy for Development, where I work at the interface between astronomy and development. See the development tab for more detail.
I lead a research group group that focusses on X-ray binaries and related objects. I'm interested in questions around populations of X-ray binaries, especially in the Small Magellanic Cloud, and other transient stellar objects. See my research page for more.
I teach the NASSP Masters course on Time Series & Data Analysis and am an honorary research associate in the Astronomy Department at the University of Cape Town.